Call for Abstracts by 1st September – First Annual VetEd Africa Conference - 1-3 November, 2022
Posted by Patricia Lumba on 28 August 2022 11:15 AM CAT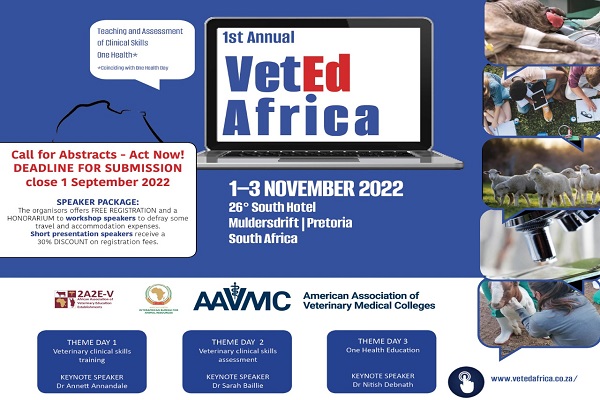 The First Annual VetEd Africa Conference on 'Veterinary Clinical Skills Training and Assessment for OneHealth" – VetEd Africa 2022 – will be held on 1-3 November, 2022 in Pretoria, South Africa.
Academicians and researchers from veterinary establishments across Africa are invited to submit abstracts for peer review. There are speaker packages to defray some accommodation and travel expenses. Submit your abstract via https://www.cvent.com/c/abstracts/25bcf86e-cb1a-4c2f-8606-39a6dd7dcf2d by 1st September, 2022.
VetEd Africa 2022 will bring together academicians and researchers, clinicians, government officials, and civil society, to tackle topics under the sub-themes (i) Veterinary Critical Skills Training, (ii) Veterinary Clinical Skills Assessment, and (iii) OneHealth Education
The conference will be held jointly by African Association of Veterinary Education Establishments (2A2E-V) in collaboration with the Council on Veterinary Medical Education (CIVME) and the American Association of Veterinary Medical Colleges (AAVMC). The focus of the symposium will be on veterinary clinical skills training and assessment and One health Education, needs identified by 2A2E-V. This initiative will be an opportunity to bring veterinary educators together and build a community of practice (CoP) to support long-term collaboration in the design and delivery of veterinary educational approaches.
The African Union InterAfrican Bureau for Animal Resources, through the Live2Africa Project, funded by the European Union facilitated the establishment of the 2A2EV in 2018, and has since supported its activities towards the 2A2EV mandate.
More information on the VetEd Africa may be found on: www.vetedafrica.co.za