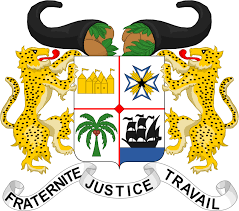 A virtual guide to Benin. The Republic of Benin is from north to south a long stretched country in West Africa, situated east of Togo and west of Nigeria, it is bordered to the north by Burkina Faso and Niger, in the south by the Bight of Benin, in the Gulf of Guinea, that part of the tropical North Atlantic Ocean which is roughly south of West Africa. Benin's coastline is just 121 km (75 mi) long.
With an area of 112,622 km², the country is slightly larger than Bulgaria, or slightly smaller than the U.S. state of Pennsylvania. Benin's former name, until 1975, was Dahomey.
Benin has a population of 10 million people (in 2013), Porto-Novo, a port on an inlet of the Gulf of Guinea is the nation's capital city, largest city and economic capital is Cotonou. Spoken languages are French (official), Fon and Yoruba.
Background:
Present-day Benin was the site of Dahomey, a prominent West African kingdom that rose in the 15th century. The territory became a French Colony in 1872 and achieved independence on 1 August 1960, as the Republic of Benin. A succession of military governments ended in 1972 with the rise to power of Mathieu KEREKOU and the establishment of a government based on Marxist-Leninist principles.

A move to a representative government began in 1989. Two years later, free elections ushered in former Prime Minister Nicephore SOGLO as president, marking the first successful transfer of power in Africa from a dictatorship to a democracy. KEREKOU was returned to power by-elections held in 1996 and 2001, though some irregularities were alleged.
Sign in to add your comment.