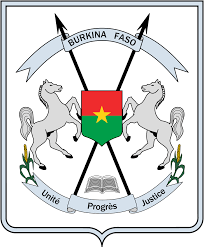 A virtual guide to Burkina Faso, the 'land of the upright/honest people. Burkina Faso (formerly known as Upper Volta; French: Haute Volta) is a landlocked country located in the middle of West Africa's "hump." The northern part lies geographically in the Sahel zone, the transition zone between the Sahara Desert in the north and the tropical savanna in the south. Burkina's landscape offers one major scenario, flat, with some rocky cliffs in the Centre-Nord region and at the Banfora Escarpment around Bobo-Dioulasso, the country's second-largest city.
The country sits on an extensive plateau, it is bordered by Mali in the north and north-west, by Niger in the northeast, by Benin in the south-east and by Cote d'Ivoire, Ghana, and Togo in the south. Burkina covers an area of 274,222 km², this is about three times the size of Austria, or slightly larger than the U.S. state of Colorado.
Burkina Faso has a population of 19 million (in 2016); the capital and largest city are Ouagadougou. Spoken languages are French (official), and several native languages of the Niger-Congo family-like Mossi, Fulani and Dioula, spoken by about 90% of the Burkinabe population.
Background:
Burkina Faso achieved independence from France in 1960. Repeated military coups during the 1970s and 1980s were followed by multiparty elections in the early 1990s. Burkina Faso's high population density and limited natural resources result in poor economic prospects for the majority of its citizens.
Recent unrest in Cote d'Ivoire and northern Ghana has hindered the ability of several hundred thousand seasonal Burkinabe farm workers to find employment in neighbouring countries.
In 2014 protests and mass uprising in Burkina led to the overthrow of long-serving ruler Blaise Compaore. Blaise Compaore has managed to run down one of the poorest countries on the planet for 27 years.
Sign in to add your comment.
Suggested Pages

Official Name:
Burkina Faso
Short form: Burkina
ISO Country Code: bf
Time:
Local Time = UTC (+-0; no UTC/GMT offset)
Country Calling Code: +226
Capital City: Ouagadougou (pop.1 million)
Other Cities: Bobo-Dioulasso (450,000), Koudougou (90,000), Banfora, Dori, Fada N'Gourma, Ouahigouy.
Government:
Type: Parliamentary Republic
Independence: 5 August 1960 (from France).
Constitution: 11 June 1991 formally adopted; amended April 2000.
Geography:
Location: Western Africa, north of Ghana.
Area: 274,200 km² (106,000 sq. mi.).
Terrain: Savanna; brushy plains and scattered hills.
Climate: Sahelian; pronounced wet and dry seasons.