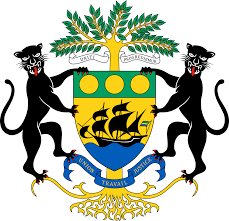 Gabon, a country at the Equator in West-Central Africa bordering the Atlantic Ocean in the west is bordered by Equatorial Guinea, Cameroon, and the Republic of the Congo. With an area of 267,668 km², the country is somewhat larger than the United Kingdom, or slightly smaller than the U.S. state of Colorado.
Gabon has a population of estimated 1.5 million people. The capital and largest city are Libreville. Spoken languages are French (official) and a variety of Bantu languages. Because of its oil and mineral reserves and relatively small population, Gabon is one of Africa's wealthier nations, which is able to protect and preserve its pristine rain forests with rich biodiversity.
More than 10% of Gabon's area is protected parkland, there are 13 National Parks in the country, among them the forested coastal terrain of the Loango National Park, 'Africa's Last Eden' shelters a diversity of wildlife from gorillas and hippos to whales. Lopé National Park consists of mostly rainforest, but in the north, the park contains the last remnants of grass savannas. Akanda Park is known for its mangroves and tidal beaches. The highest mountain in Gabon is Mont Iboundji with 1,575 m.
Background:
Only two autocratic presidents have ruled Gabon since independence from France in 1960. Gabon's former President, El Hadj Omar BONGO Ondimba - one of the longest-serving heads of state in the world - had dominated Gabon's political scene for four decades (1967-2009).
Following President BONGO's death in 2009, new elections brought Ali BONGO Ondimba, son of the former president, to power.
Sign in to add your comment.
Suggested Pages
Official Name:
République Gabonaise
Short form: Gabon
ISO Country Code: ga
Time:
Local Time = UTC +1h
Country Calling Code: +241
Capital City: Libreville (pop. 700,000)
Other Cities: Port-Gentil (136,000), Masuku-Franceville (110,000), Lambaréné (25,000), Mouila, Tchibanga, Makokou, Koulamoutou, Port-Gentil, Oyem.
Government:
Type: Republic; multiparty presidential regime.
Independence: 17 August 1960 (from France).
Geography:
Location: Western central Africa, bordering the Atlantic Ocean at the Equator, between the Republic of the Congo and Equatorial Guinea
Area: 267,667 km² (103,347 sq. mi.)
Terrain: Narrow coastal plain; hilly and heavily forested interior (about 80% forested); some savanna regions in east and south.
Climate: Hot and humid with two rainy (February - May main rainy season)
and two dry seasons (May - September main dry season).