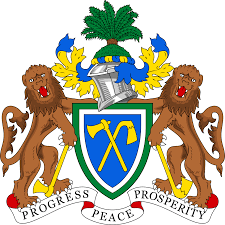 A virtual guide to the Gambia, a West African nation bordering the North Atlantic Ocean in the west. The sub-tropical country is a narrow strip of land on either side of the Gambia River, just 48 km (29 mi) at its widest point. Within the country, the Gambia River is navigable the entire length, it is Gambia's chief transport artery.
The smallest country on mainland Africa occupies an area of 11,295 km², it is about the size of one-third of Belgium or slightly less than twice the size of Delaware. The former British colony forms an enclave within Senegal with the exception of its coast.
The country has a population of 1,9 million inhabitants (2015). Most of the people live near the coast. Gambia's population is made up of several ethnic groups, about one-third are Mandinka, followed by Fula, Wolof, and Jola people. Spoken languages are English (official), Malinke and other indigenous languages and Creole. More than 95% of the population in the Islamic Republic of the Gambia are Muslims.
Background:
The Gambia is a strip of land 15 to 30 miles (25 to 50 kilometres) wide and 295 miles long on either bank of the Gambia River; except for a short coastline, it is surrounded by Senegal. Its unusual shape and size are attributable to territorial compromises arising from 19th-century Anglo-French rivalry in western Africa.
(from "The Gambia, The." Encyclopaedia Britannica. 2006)
After 200 years of British colonial rule, The Gambia gained its independence in 1965; it formed a short-lived federation of Senegambia with Senegal between 1982 and 1989.
In 1991 the two nations signed a friendship and cooperation treaty.
A military coup in 1994 overthrew the president and banned political activity, but a 1996 constitution and presidential elections, followed by parliamentary balloting in 1997, completed a nominal return to civilian rule. The country undertook another round of presidential and legislative elections in late 2001 and early 2002.
Yahya A. J. J. JAMMEH, the leader of the coup, has been elected president in all subsequent elections.
Presidential elections were held in The Gambia on 1 December 2016, where opposition candidate ADAMA BARROW defeated long-term incumbent Yahya Jammeh. First Jammeh conceded defeat but later announced that he was rejecting the results and called for a new election.
Sign in to add your comment.
Suggested Pages
Official Name:
Republic of The Gambia
Short form: The Gambia
ISO Country Code: gm
Time:
Local Time = UTC
Actual Time: Tue-Mar-8 18:42
Country Calling Code: +220
Capital City: Banjul (pop. 35 000, with suburbs 500 000)
Other Cities: Serrekunda (pop. 200 000),
Basse Santa Su, Georgetown (Jangjang-bureh), Juffureh.
Government:
Type: Civilian.
Independence: 18 February 1965 (from the UK).
Constitution:16 January 1997.
Geography:
Location: Western Africa, bordering the North Atlantic Ocean surrounded by Senegal.
Area: 11,300 sq. km. (4 360 sq. mi.)
Terrain: Flood plain of the Gambia River flanked by low hills.
Climate: Tropical; hot rainy season (June to Nov.); cooler, dry season (Nov. to May).