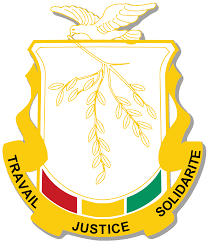 A virtual guide to Guinea, a developing country in the tropical southwestern part of West Africa at the Atlantic Ocean. Bordered in the north by Guinea-Bissau, Senegal, and Mali, and by Côte d'Ivoire to the east and southeast, by Liberia and Sierra Leone to the south. Until independence in 1958 the country was known as French Guinea, a French colony and part of French West Africa. The French language is a legacy of that time.
Guinea's climate is hot and humid and its landscape offers four main geographic regions: the Basse Coté, the coastal lowlands of Maritime Guinea, the hilly Fouta Djallon, a highland region of Central-Guinea, the headwaters of the Niger, the Gambia River, the Pongo and the Senegal River. The highest elevation in Guinea and Côte d'Ivoire is Mount Nimba (or Mount Richard-Molard) at 1,752 m, a mountain range in the Guinea Highlands. To the northeast of the country is the dry Sahelian Haute-Guinea and in the southeast the Guinée forestière (Forested Guinea) with its tropical rain forests.
Guinea covers an area of 245,857 km² (94,926 sq mi), this is about the size of the United Kingdom, or slightly smaller than the US state of Michigan. The country has a population of 10.6 million people (in 2015). Located at the coast are Conakry, the capital, largest city and chief port (pop. 2 million), spoken languages are French (official), and eight national languages. More than twenty different ethnic groups live in the country. Guinea is a predominantly Islamic country, about 90% of Guinea's population are (Sunni) Muslims.
Background:
Independent from France since 1958, Guinea did not hold democratic elections until 1993 when Gen. Lansana CONTE (head of the military government) was elected president of the civilian government. He was reelected in 1998 and again in 2003, though all the polls were marred by irregularities. History repeated itself in December 2008 when following President CONTE's death, Capt. Moussa Dadis CAMARA led a military coup, seizing power and suspending the constitution as well as political and union activity. Guinea has maintained some semblance of internal stability despite spillover effects from conflict in Sierra Leone and Liberia. As those countries have rebuilt, however, Guinea's own vulnerability to the political and economic crisis has increased. Declining economic conditions and popular dissatisfaction with corruption and bad governance prompted two massive strikes in 2006 and a third nationwide strike in early 2007.
Guinea possesses major mineral, hydropower, and agricultural resources, yet remains an underdeveloped nation. The country possesses over 30% of the world's bauxite reserves and is the second-largest bauxite producer. Long-run improvements in government fiscal arrangements, literacy and the legal framework are needed if the country is to move out of poverty.
Sign in to add your comment.
Suggested Pages
Official Name:
Republic of Guinea
Short form: Guinea
ISO Country Code: gn, GIN
Local Time = UTC +0h
Country Calling Code: +224
Capital City: Conakry (pop. 1.5 million).
Other Cities:
Guéckédou (pop. 350 000), Boké (pop. 300 000), Kindia (pop. 280 000), N'Zérékoré (pop. 300 000), Macenta (pop. 280 000), Mamou, Kankan (270 000), Labe (250 000).
Government:
Type: Military regime.
Independence: 2 October 1958. Anniversary of the Second Republic, 3 April 1984. In December 2008 following President CONTE's death, Capt. Moussa Dadis CAMARA led a military coup to seize power. He suspended the constitution as well as political and union activity.
Geography:
Location: Western Africa, bordering the North Atlantic Ocean, between Guinea-Bissau and Sierra Leone.
Area: 245,860 sq. km. (95,000 sq. mi.)
Terrain: Generally flat along the coast and mountainous in the interior. The country's four geographic regions include a narrow coastal belt; pastoral highlands (the source of West Africa's major rivers); the northern savanna; and the southeastern rain forest.
Climate: Tropical. Generally hot and humid; monsoonal-type rainy season (June to November) with southwesterly winds; dry season (December to May) with a northeasterly Harmattan, a dry and dusty West African trade wind.