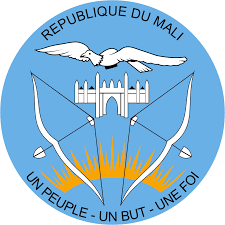 Destination Mali, a virtual guide to the region of the former Mali Empire. Mali is a landlocked country in the interior of Western Africa, large parts in the north reach deep into the centre of the Sahara, more than half of the country lies in the extremely hot, dust-laden desert, while its central parts are in the Sahel zone, the transition zone between the desert and the savanna, the grassy plain in the south.
Mali is bordered by Algeria in the north, by Niger in the east, by Burkina Faso and Cote d'Ivoire in the south, by Guinea in the southwest, and by Senegal and Mauritania in the west. With an area of 1,241,238 km², the country is 3.5 times the size of Germany or slightly less than twice the size of the U.S. state of Texas. Located in the central part of the country is its highest point, Mount Hombori Tondo, with 1,155 m. Mali's climate ranges from subtropical in the south to arid, hot and dry in the north.
The majority of its population of 16.3 million live in the country's southern region. The capital and largest city are Bamako. Spoken languages are French and Bambara (Bamanankan), a Mande language. Mali is a predominantly Islamic country, about 90% of its population are Muslims.
Background:
The Sudanese Republic and Senegal became independent of France in 1960 as the Mali Federation. When Senegal withdrew after only a few months, the Sudanese Republic has renamed Mali. Rule by dictatorship was brought to a close in 1991 with a transitional government, and in 1992 when Mali's first democratic presidential election was held.
Since his reelection in 1997, President KONARE has continued to push through political and economic reforms and to fight corruption. In 1999 he indicated he would not run for a third term. In keeping with Mali's two-term constitutional limit, KONARE stepped down in 2002 and was succeeded by Amadou TOURE, who was subsequently elected to a second term in 2007. The elections were widely judged to be free and fair.
Sign in to add your comment.
Suggested Pages
Official Name:
République de Mali
Short form: Mali
ISO Country Code: ml, MLI
Time: UTC (0h; no UTC/GMT offset)
Country Calling Code: +223
Capital City: Bamako (pop. 1 million)
Other Cities:
Segou (200 000), Sikasso (120 000),
Mopti (90 000), Gao (65 000), Kayes (65 000), Timbuktu (38 000)
Government:
Type: Republic Independence: 22 September 1960 (from France).
Geography:
Area: 1,240,000 km² (474,764 sq. mi.)
Terrain: Savannah and desert.
Climate: Semitropical in the south; arid in the north.