Kofi Annan Global Health Leadership Fellows and AU-IBAR hold learning exchange. APO Group
Posted by Janice Scheckter on 30 January 2022 11:20 AM CAT

Distributed by APO Group on behalf of The African Union – Interafrican Bureau for Animal Resources (AU-IBAR). NAIROBI, Kenya, January 30, 2022
The first cohort of the Kofi Annan Global Health Leadership Fellows Programme paid a visit to AU-IBAR on the afternoon of Thursday, 27 January 2022, for a learning exchange. The team comprised the 20 fellows from 14 African countries, Africa CDC staff and renowned public health physicians; such as Dr. Achamyelesh Kifle Debela, Coordinator, Regional Collaborating Centre East Region; Dr. Stephanie Jane Fazekas Salyer, Technical Advisor - CDC; Dr. J. Mohameds, Dr. Alex Coutinho, Dr. Ibere Okereke and Addis Mhiraf, Public Health Fellow, Information & Communication.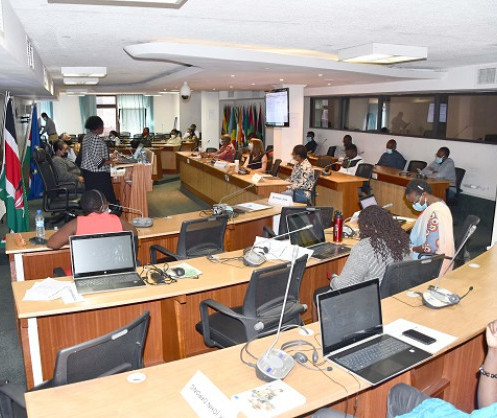 During the meeting, AU-IBAR gave brief presentations on its set-up and operations, emphasizing animal health activities (by Prof. James Wabacha), including reporting and Knowledge Management activities (By Mrs. Patricia Lumba); presentations on AU-IBAR activities in the areas of Veterinary Public Health and OneHealth (By Dr(s) Dr. Annie Lewa-Kigezo & Mary Mbole-Kariuki; Food Safety and Standard Setting - OIE and CODEX Alimentarius (by Mr. John Oppong-Otoo) were also made.
The African Union Commission launched the Africa Centres for Disease Control and Prevention (Africa CDC) – Kofi Annan Global Health Leadership Programme on 25 May 2020 in partnership with the Kofi Annan Foundation, following its approval by the Governing Board of Africa CDC in March 2018.
'The aim is to support aspirational Public Health Leaders (Fellows) from Africa in acquiring advanced skills and competencies to strategize, manage and lead public health programmes that will transform public health in Africa'.
The discussions during the visit pointed to several mutual areas of interest and which could lead to further collaboration, such as Surveillance and Disease Intelligence, data management, emergency preparedness, and networking. Ms. Francisca Gonah, who spoke on behalf of AU-IBAR's Acting Director, Dr. Nick Nwankpa, also highlighted the importance of mutual work areas during the event's opening. She noted the intersection of animal and public health, especially on the core need to fight hunger and nutrition, the ultimate aim for AU-IBAR and Africa CDC.
The brief learning exchange also included a brief to AU-IBAR staff on the Kofi Annam Global Health Leadership Fellows Programme.