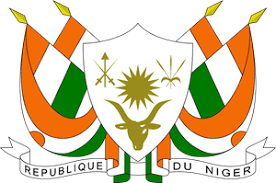 Destination Niger, a virtual guide to this landlocked country in Western Africa situated on the southern edge of the Sahara Desert. It is one of the world's least-developed nations. Niger is bordered by Libya and Algeria in the north, Benin and Nigeria in the south, Burkina Faso in the southeast, Mali in the west, and Chad in the east.
Before France incorporated the region as part of its colonial African possessions in the early 20th century, the area was subject to conflicts between various kingdoms and tribes. With an area of 1,267,000 km², the country is more than twice the size of (Metropolitan) France or slightly less than twice the size of the U.S. state Texas. The Sahara Desert covers about 65% of Niger. Most people of Niger are living in the southern part of the country.
Niger has a population of 17,8 million people (est. 2013), it is the country with the highest total fertility rate (7,6 children each woman). The capital and largest city are Niamey, spoken languages are French (official), but also Hausa, Zarma, Songhay, Arabic and half a dozen other languages. 95% of Niger's population are Muslims.
Background:
Despite the fact that the country has some of the world's largest uranium deposits, Niger is one of the poorest countries in the world, a landlocked Sub-Saharan nation, whose economy centres on subsistence crops and livestock.
Niger suffered austere military rule for much of its post-independence history. Not until 1993, 33 years after independence from France, did Niger hold its first free and open elections. A 1995 peace accord ended a five-year revolt by Tuareg tribes, who accused the government of failing to deliver on promised economic aid. Coups in 1996 and 1999 were followed by the creation of a National Reconciliation Council that effected a transition to civilian rule in December 1999.
Sign in to add your comment.
Suggested Pages
Official Name:
Republique du Niger
Short form: Niger
ISO Country Code: ne, NER
Time:
Local Time = UTC +1h
Country Calling Code: +227
Capital City: Niamey (pop. approx. 675 000)
Other Cities: Tahoua, Maradi, Zinder, Diffa, Dosso, Arlit, and Agadez.
Government:
Type: Republic, multiparty Presidential regime.
Head of State: President
Independence: 3 August 1960 (from France).
Geography:
Location: Western Africa, southeast of Algeria.
Area: 1,267,000 km² (490,000 sq. mi.).
Terrain: About two-thirds desert and mountains, one-third savanna.
Climate: Hot, dry, and dusty; tropical in the extreme south. Rainy season June - September.