University of Khartoum Home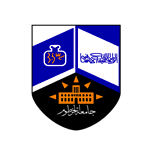 ---
Background
The roots of the University of Khartoum (U of K) go back to 1898 when Lord Kitchener of Khartoum proposed founding a college in memory of General Gordon. Funds for the proposed college were raised by private subscription, and the plans for the building were drawn by the Khedive's architect, Fabricus Pasha.
The new college, named the Gordon Memorial College, was officially opened in 1902, although it was not until 1903 that the buildings were completed and the first batch of primary level students was admitted. The College, however, was never intended to be solely a primary school. A secondary stratum was added in 1905 for the purpose of training assistant engineers and land surveyors, and in 1906 a four-year course for the training of primary school teachers was established.
University Emblem
The objective of an emblem is to symbolize the University in manner and purpose, as countries do with national flags. The idea behind the University emblem revolves around four features:
1. The Nile
The emblem uses the symbol of the Nile to represent the great civilization of the Nile Valley. The confluence of the two Niles is shown by two converging lines - the Blue Nile on the right and the White Nile on the left which then continues upwards through the emblem as the spine of an open book.
Sign in to add your comment.
Suggested Pages
Quick Review
---
Enrollment
41,030
Type
Non-profit
Funding
Public-private partnership
Languages
English, Arabic
Acceptance rate
79%
Highest Degree
Bachelor
---
2197 of 14.160 in the World
33 of 1,103 in Africa